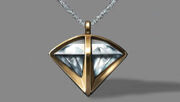 Information
Edit
This piece of equitment was gave to Sarah as a gift for the end of days (Journeys End)
Appearances
Edit
This is the first piece of tech that features in Doctor Who but not SJA.
It is unknown how Captian Jack knew what it was.
It probily was destroyed when The Duplicate Doctor destroyed the Dalek Ship.
Ad blocker interference detected!
Wikia is a free-to-use site that makes money from advertising. We have a modified experience for viewers using ad blockers

Wikia is not accessible if you've made further modifications. Remove the custom ad blocker rule(s) and the page will load as expected.