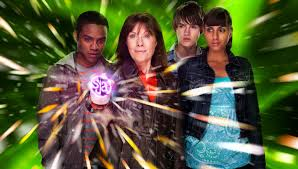 Series 3 was brodcast between 15th October 2009 and 20th November 2009.
Sarah Jane returns, but she is not alone. She is assisted by Rani,Luke,Clyde,K9 and of course Mr.Smith. She fights new aliens and old ones. She reunites with old friends and makes new ones. Is she ready to fight them.
3.The Wedding Of Sarah Jane Smith
6. The Gift
Elisabeth Sladen as Sarah Jane
Anjli Mohindra as Rani Chandra
Daniel Anthony as Clyde Langer
John Leeson as the voice of K9
Alexander Armstrong as the voice of Mr. Smith
Paul Marc Davis (The Trickster)  makes his final appearance
Carla Langer does not appear in the series
K9 becomes a series regular in The Mad Woman in the Attic
Brian Miller guest stars.
David Tennant guest stars
Professor Rivers appears for the last time [until Sky]
The series is the first to be brodcast in HD
Ad blocker interference detected!
Wikia is a free-to-use site that makes money from advertising. We have a modified experience for viewers using ad blockers

Wikia is not accessible if you've made further modifications. Remove the custom ad blocker rule(s) and the page will load as expected.