Porsha Lawrence-Mavour
Vital statistics
Name
Porsha Lawrence-Mavour
Porsha Lawrence-Mavour is an English actress. Her acting career started in 2007.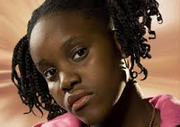 Biography
Edit
Porsha began her career in 2007, when she starred in The Sarah Jane Adventures as Kelsey Hooper. This is her only appearance to date but she was seen in Sarah Jane's Alien Files in 2010 for achieve footage.
Filmography
Edit
Ad blocker interference detected!
Wikia is a free-to-use site that makes money from advertising. We have a modified experience for viewers using ad blockers

Wikia is not accessible if you've made further modifications. Remove the custom ad blocker rule(s) and the page will load as expected.