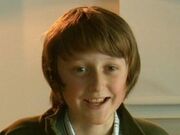 Nathan Goss
was a child prodigy who worked at the Pharos Institute. He was killed by Korst Gogg Thek Lutiven-Day Slitheen, who took his skin as a disguise. He created 'MITRE'.

When Korst Gogg Thek Lutiven-Day Slitheen was disguised as him, he came across as being (in the words of Sarah-Jane Smith) 'an obnoxious brat'.
Nathan Goss
Vital statistics
Name
Nathan Goss
Alias
Pharos Institute
Status
Died at the hands of the Slitheen before the events of 'The Lost Boy'
Friend/Foe
Friend
Home Planet
Earth
Species
Human
Appearances
The Lost Boy (Slitheen in Nathan's skin)
Actor
Ryan Watson
Ad blocker interference detected!
Wikia is a free-to-use site that makes money from advertising. We have a modified experience for viewers using ad blockers

Wikia is not accessible if you've made further modifications. Remove the custom ad blocker rule(s) and the page will load as expected.