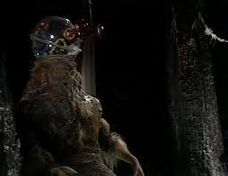 Morbius

Species

Time Lord

Home Planet

Gallifrey

Appearance

The Brain Of Morbius

Portrayer

Stuart Fell
Morbius

 was a notorious and malevolent 

renegade Time Lord

. His career was the first in millennia to dramatically alter 

Gallifrey

's relations with the wider 

universe

. He attempted to overturn Gallifrey's 

non-interference policy

 in favour of military conquest, but was exiled and eventually executed, only to survive, saved by 

his following

.
Section heading
Edit
Morbius's brain was beeing transplantedon the home planet ofthe sisterhood of karn.
Ad blocker interference detected!
Wikia is a free-to-use site that makes money from advertising. We have a modified experience for viewers using ad blockers

Wikia is not accessible if you've made further modifications. Remove the custom ad blocker rule(s) and the page will load as expected.