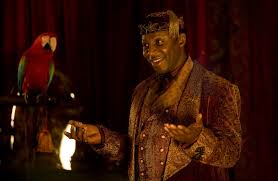 A harmless investigation turns into an epic quest through time, as the alien-busting adventure series continues. Sarah Jane and the gang are separated by the enigmatic Shopkeeper and find themselves in three different time-zones throughout history, thrown together with ghosthunters, Nazis, Tudors … and a mysterious parrot called Captain.
While Sarah Jane tries to prevent a future tragedy, Clyde has to take on the Third Reich single-handed. But Rani discovers to her horror that the march of history cannot be stopped, as a greater danger from the Time Vortex threatens to consume them all.
Behind the Scenes
Edit
to be added
Ad blocker interference detected!
Wikia is a free-to-use site that makes money from advertising. We have a modified experience for viewers using ad blockers

Wikia is not accessible if you've made further modifications. Remove the custom ad blocker rule(s) and the page will load as expected.