Journey's End
Episode guide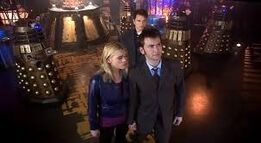 Davros gathers the Children of Time together.
Characters
Edit
Rose Tyler
Mickey Smith
Jackie Tyler
Donna Nobel
Martha Jones
Torchwood
Edit
Cpt Jack Harkness
Gwen Copper
Ianto Jones
External Links
Edit
Ad blocker interference detected!
Wikia is a free-to-use site that makes money from advertising. We have a modified experience for viewers using ad blockers

Wikia is not accessible if you've made further modifications. Remove the custom ad blocker rule(s) and the page will load as expected.