Alan Jackson is Maria's father and ex-husband of Chrissie Jackson. He lived on Bannerman Road until he moved to America with Maria.
Biography
Edit
Alan had moved to Bannerman Road after divorcing Chrissie Jackson he moved with Maria where he met Sarah Jane
Series Two
Edit
Alan got a job in America and was a tough decision and decided to take it and took Maria with him which made Chrissie very upset that she wouldn't see Maria.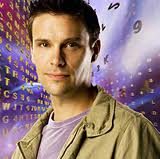 Personality
Edit
Alan's personality is very caring and kind, showing this when he found out what Maria, Clyde, Sarah Jane and Luke were doing. 
Behind the Scenes
Edit
External Links and References
Ad blocker interference detected!
Wikia is a free-to-use site that makes money from advertising. We have a modified experience for viewers using ad blockers

Wikia is not accessible if you've made further modifications. Remove the custom ad blocker rule(s) and the page will load as expected.