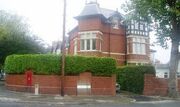 13 Bannerman Road is the home of Sarah Jane Smith, Luke Smith, Mr Smith, Sky Smith and it's here many weird and wonderful things have happened.Sarah Jane's attic is the central hub where the gang work from! this being the location of Mr Smith.
The first strange thing that was seen at 13 Bannerman Road was a Star Poet which Sarah Jane was helping to navigate home. Maria saw this and asked Sarah Jane about it during the events of Invasion of the Bane.
Ad blocker interference detected!
Wikia is a free-to-use site that makes money from advertising. We have a modified experience for viewers using ad blockers

Wikia is not accessible if you've made further modifications. Remove the custom ad blocker rule(s) and the page will load as expected.